Tricolor cats are unusual animals. These purrs have beautiful coats combining black, red and white colors. In many countries, especially in the East, calico cats are treated with great awe and respect. You can't call such a pet an ordinary name, can you?
The best calico cat names
The three-colored pets are symbols of good luck, wealth, and prosperity. It is said that they protect their owners from diseases, protect their homes from fires and ward off all kinds of trouble.
Well, the fact that female cats are mostly tricolor has nothing to do with mysticism and miracles.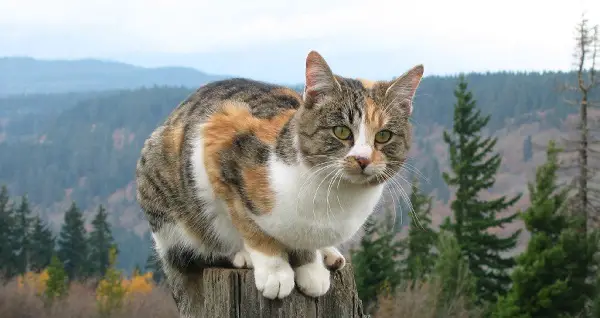 Everything is explained simply – it's genetics. Of course, for about three thousand tricolor kittens there may be one tricolor cat, but it will usually be sterile and with genetic abnormalities. So in this article we will only give examples of names for calico female cats.
Below are 200 names for a calico cat for each letter of the alphabet.
A
Alla, Apricotkit, Abigail, Arrowscar, Aces, Africa, Alexus, Aida, Ashenleap, Ashendash, Arrowflame, Aza.
B
Baker, Babycakes, Bambini, Blossompaw, Banshee, Bamboo, Barnaby, Barry, Beanie, Blondie, Boneshade.
C
Careless Whisker, Carrie Bradpaw, Chewie, Catalie Dormer, Catsy Cline, Cindy Clawford, Catnip Everclean, Cher Pawowitz.
D
Deloris Van Catier, Darkhowl, Danger, Darla, Dakota, Daniella, Daffy, Dawnstar, Deerroot, Dolphinclaw, Dovefire.
E, F, G
Ewok, Emberclaw, Evileater, Feline Dion, Frizzy, Fleyonce, Furmione Granger, Featherdash, Gemflail, Gooseberry, Gooselimb, Grizzly.
H, I, J
Hello Kitty, Hasie, Heftystripe, Herondance, Helen, Ilytria, Ivory, Jamie, Jenna, Jess, Jamina, Jennifur Anderson.
K
Kit Kat, Kitney Spears, Kurly, Koty, Katz, Kannika, Koba, Karma, Koigaze, Koitree, Keetah, Kissafurr.
L
Lioness, Lifebridge, Lightpelt, Lilaccry, Lillyflower, Liongaze, Leona, Limite, Livy, Lessa, Luckydance, Lynxshine.
M
Madame, Mariah Hairy, Mary Pawpins, Madonna, Mafalda, Magna, Magnolia, Maja, Manapua, McGonagall.
N
Navyswirl, Nebularoot, Nadena, Nightingalecry, Nerf, Nessie, Nightwind, Northbreeze, Nutbrown, Nevermore.
O
Oaknose, Offel, Oneeye, Ollie, Oceancrash, Otterheart, Ottaline, Ozone, Owlstripe, Oz, Oranza, Ospreykit.
P
Pawdrey Hepburn, Pandy, Pantha, Purrsei Lanniste, Patch, Pomelo, Patti, Pansyspark, Peachflare, Pearlgleam, Puma Thurman.
Q, R
Quietbelly, Quartzflower, Rapidscar, Ravenna, Rebecca, Rebel, Rori, Rusty, Rudi, Ravenclaw, Redflower.
S
Siren, Stevie Licks, Salmonpounce, Salmonshell, Scaly, Scone, Sulima, Salthiss, Seuss, Seymora, Shadi, Sharcky.
T
Tina Spay, Tanheart, Tiffany, Tac, Talara, Thrusheye, Treehiss, Tasha, Tuftsong, Tina Karol, Tula, Tubby.
U, W, V
Usha, Ullyt, Underhiss, Voleflower, Vanillaflower, Velvetfur, Vinefur, Vivietta, Volya, Wheatsparkle, Whitewater, Waffle, Wiggles.
Y, Z
Yuna, Your Highness, Yunga, Zephyrberry, Zestystorm, Zanza.
This will be interesting:
How to name a calico kitten originally
Foreign calico cat names
Mieke-neko (tricolor cat, Japanese);
Calico;
Lapjeskat (patchwork cat, Netherland);
Gluck (Glück – good luck, German);
Popular Heroes, Animals, Characters
Harlecchino (a character in a comedy of masks, Italian);
Mask;
Tigger ("Winnie the Pooh");
Matilda ("Kid and Carlson");
Colombina (a character in a comedy of masks, Italian);
Lucinda (a character in a comedy of masks, Italian);
Kappa ("Lunticus");
Barbie;
Villina (The Wizard of Oz).
Original & Unique
Watercolor;
Tricolor Girl;
Palette;
Miso;
Mistic;
Zlata;
Takara (treasure, Japanese);
Magic;
Beauty;
Lakki.
Funny
Zamara;
Furgie;
Grow-lein Maria;
Erma;
Jane Pawsten;
Goddy;
Carrotty;
Meowly Cyrus;
Banksi;
Cheeto.
Read: 500+ options for funny cat names.
More names
Fleas Witherspoon
Kitty Purry
Margaret Scatcher
Skimbleshanks
Beauty
Bertha
Berry
Cleocatra
The Boss
Grace
Catalie Portman
Gabby
Donna
Catastophe
Eva
Cat Benatar
Jolly
Zara
Dumpling
Toothless
Truth
Ketty
Kanna
Drop
Bark
Tiny
Liza
Lucky
Lama
Mimi
Diva
Mona
Dreamy
Muse
Midi
Nana
Chipmunk
Fuzzball
Nora
Omi
Odrie
Party
Pandora
Glamourpuss
Marble
Santa
Satt
Sandra
Tic Tac
Ninja
Tuma
Tayra
Tickie
Una
Uma
Pogo
Fairy
Fanta
Mural
Funny
Flora
Fray
Sassy
Chloe
Holly
Snoopy
Squish
Twinkle Toes
Brienne of Tarth
Tilda
Lofty
Chika
Beasty
Elephant
Sherry
Everest
Shantie
Elite
Etna
Just Fluffy
Yuna
Yuki
Chubbs
Giantess
Mammoth
Supersize
If these names are not enough, read the list of 500 names for a female cat. Let your cat bring you good luck no matter its breed or color. Remember, a happy pet is a happy owner!